Charlotte C, English-French-Italian translator
Best English-French-Italian translator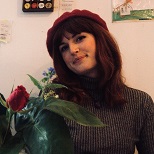 My name is Charlotte Clark, I am a British native linguist, with French and Italian. I have over 5 years experience in French speaking and translation, and 4 in Italian.
I completed a 4 year undergraduate degree in French and Italian at the University of Cambridge where I achieved a 2.1 at the end of the course. I have studied in France for one year and worked in Italy with Italian companies for a year. Both of these experiences gave me professional language skills that make me a highly proficient translator from French/Italian into English. 

I would like to find translation work especially in the Arts&Culture sector as this is my specialism.
My email address is charlotteiclark@hotmail.co.uk if you wish to contact me further.

621 total views, 1 views today