Jean Yannick H, English to French translator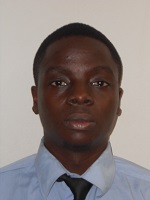 Best English to French translator
My name is Jean Yannick HOUNTONGBE. I am a French native linguist, with French, English and Spanish. I have over 3 years experience in both English and Spanish speaking and translation.
I completed a 3 years undergraduate degree in French at the University of HECM where i obtained a bachelor's degree in management. At the obtention of my bachelor's degree, i worked 2 years half as customer advisor in a call center named Media Contact, and an other named Vipp-interstis, both located in Benin. All these experiences gave me professional language and relationship skills that make me a highly proficient translator from English/Spanish into French.

I would like to find translation work especially in the General, Medicine, E-sports, Gaming, Movies, TV series, Animes, Instructions for Manuals users, letters, childs, health and card, and marketing sectors as there are my specialism.
My email address is yannickhountongbe@gmail.com if you wish to contact me further.
689 total views, 1 views today