Marika S, FR/EN/ES/Chinese to Italian translator
Best French/English/Spanish/Chinese to Italian translator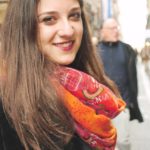 My name is Marika Spirito, I am a professional translator and I started this job four years ago before my degree.
My pair languages are FR-ITA, EN-ITA, SPA-ITA, CHINESE-ITA, ENG-FR, FR-ENG, SPA-ENG. ENG-SPA.
As translation fields are expanding rapidly due to the increase in small business, the need for translator is higher than ever. I have always been a passionate about communication and linguistics and translation studies lover.  My favourite fields are: Translation and Interpreter services and Project Management. I am positive, I can learn as much as possible and help you with all yours upcoming challenges in these fields, my passion and dedication will do the rest.
I graduated in Languages Mediation Sciences in October 2019 , I have good IT skills( Microsoft Office, Excel, Power Point, Word..) and good use of CAT tools(Wordfast Anywhere, Google Translator Toolkit, Matecat, Omega T), stated by EIPASS CERTIFICATE advanced level.
Get in touch
spiritomarika@gmail.com
802 total views, 1 views today