Selene R, English-Italian-Spanish translator
English-Spanish-Italian translator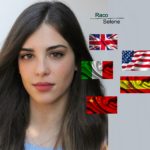 My name is Selene Raco, my work languages are Italian, Spanish and English
If you need Italian lessons we can make a deal on timing and price.
I will translate whatever text is submitted to me (I accept any file format).
I also can transcribe from audio files to txt, add subtitles to videos or games, translate videos into another language and much more. you ask I'll do it!
my strong point? I am very fast!I can translate up 500 words in 2 hours. my studies of English and Spanish, which have been going on for 10 years now, allow me to understand the language almost perfectly and my recent studies in linguistic and cultural mediation allow me to apply my knowledge of the language to different specific fields such as legal, medical, bureaucratic and much more! i'm a perfectionist!
don't hesitate to contact me here https://www.fiverr.com/share/xkpmL4
720 total views, 1 views today