Tito, Spanish to English translator
Best Spanish to English translator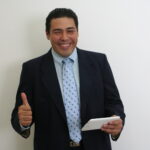 My name is Tito. I am a Spanish <> English translator. I have been an English teacher for from basic to advanced level for 16+ years and a translator for 1 year. I am currently working as a customer service in the health area with a company located in Morgan Hill, California. I make and receive phone calls from Spanish and native English speakerson a daily basis.
I will translate your documents from English to Spanish and vice-versa with excellent grammar and accuracy. The content I translate: Fiction – Non-Fiction – Cover Letters/Resumes – eBooks – Ads – Academic & Non-Academic Articles – Technical Texts (manuals, packaging descriptions, product listings) – Blog Posts – Apps – … and more
Passionate about everything related to the languages. Open to work in any field related: translation, editing, proofreading, in English and/or Spanish. I'm looking forward to gain experience on this ground and I would very much appreciate an opportunity to be part of your team!
100% human translation. Customer satisfaction is of paramount importance to me, so if this gig doesn't cover all your expectations, please feel free to let me know the details and requests for a custom offer!
Get in touch
tito.duran@hotmail.com
520 total views, 1 views today