Madeha G. translator English-Arabic
Madeha Ghagary English-Arabic translator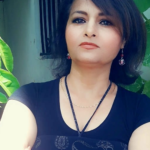 My name is Madeha Ghagary,  Senior translator SmartCat , I work as a translator (English to Arabic), Localizer, transcriber and  Arabic proofreader.
I believe that languages are ways of thinking, by knowing new language; you are introduced to new mind that will make the changes, and move this world closer into one family. Translation has always been the right process to make this possible. I am a Senior English Arabic translator who takes the role to get all people around the world closer. I am a freelance translator, over 5 years of translation experience. SmartCat En Ar Senior translator, hold a BA in English literature, I have also certified with 96% translation test on Byte.com. I translate Literature, Marketing, cars, cosmetics, gambling, society, history and general issues. I do translation, localization, proofreading, Arabic transcription, and recently subtitling (personal learning).
Experience
Hereunder some projects I have achieved:
– A long-term project for 3 months (healthcare and cosmetics)
– Proofreader at Motaword.com
– Translation and proofreading of many gambling projects,
– Proofreading of a huge project for Hyundai cars
– Literature translation of the below published stories
– A partial translation of literature book for Good Book, Lebanon
– Three Localization projects.
– Transcription of Arabic project
Published works:
Translation of a set of erotic short stories into Arabic published by SAGA:
Title                                                                                author
–          Jenny the Pirate (القرصانة جيني)                                Olrik
–          Pool Boy (فتى حوض السباحة)                                       Anita Bang
–          Handyman (عامل الصيانة)                                          Marianne Sophia Wise
–          Obsessed with Owen Gray(مهووسة أوين غراي)            Sara Skov         
Translation of 4 parts fiction series of children literature, published by SAGA entitled as "Fate of the Elves" (مصير الجان)
Translation of three romantic stories published by TEKTIME:
–          Delighted By The Duke (مسرورة من الدوق)                  by Amanda Mariel
–          Enticed By Lady Elianna (مفتون السيدة اليانا)                  by Amanda Mariel
–          Desire & Devotion (بين الرغبة والإخلاص)                   by Aurelia Hilton
email: madehaganem@gmail.com
641 total views, 1 views today