Hatim A, English-Urdu translator
Best English-Urdu translator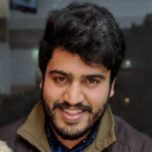 My name is Hatim Ali and I am a professional translator; A paying Plus member at ProZ & a Top-Rated Translator at Upwork. The links are given below.
h
Presentation/Introduction:
Strong communication leads to better understanding. Which not only attract but engage the audience. Let me help you achieve just that.
Hi, My Name is Hatim Ali and I am a Native Urdu Translator in English -Urdu Language Pair.
Being a published Urdu (اردو) author, writer, translator, editor, proofreader, reviewer, I am able to transform your chronicles and assignments into an excellent and nifty demonstration of notions, opinions, and well-crafted ideas.
I have a Master's degree in Urdu literature and a Master's in English literature as well with an emphasis in linguistics. I have also earned a one-year diploma in modern journalism.
Having 7+ Experience in the field of Urdu transcreating, Urdu translating, Urdu writing, Urdu editing & proofreading, I have helped multinational companies like Twitter, Uber, GSK, Facebook, and Google as well as the local publications with English to Urdu translations & transcreations, enabling them to connect with the local audiences better.
——————————————————————————-
My Email Address is the same I am sending you this mail with. hatim.rajput@gmail.com
Social Media Links:
Facebook: www.facebook.com/hatimrajput
Twitter: https://twitter.com/hatimrajput
WhatsApp: +92-345-6814890
LinkedIN: https://pk.linkedin.com/in/hatimrajput
Professional Translator Profile links:
Upwork: https://www.upwork.com/freelancers/~012ff70f29636ecdf2
ProZ: https://www.proz.com/profile/2651429
816 total views, 1 views today