Manuela B, English to Italian translator
Best English to Italian translator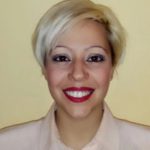 My name is Manuela Bonaccorso, I am a professional translator and a passionate language lover with a unique talent for spotting and correcting grammatical and stylistic errors. My language combination is English to Italian.  I'm fully aware of diversity and multicultural issues, I'm also flexible in the ability to adapt to challenges when they arise. I have been in the field of translation and editing for over  10 years performing also activities as English teacher to Italian speaking students and Italian teacher to English speaking students
I translate a wide range of documents such as guidebooks, hotel information,  clinical trial documentation, medical instruments, medicine in general, press releases, stories, speeches, promotional materials, e-commerce and web sites.
Other services I provide
Editing & Proofreading: stylistic and grammatical improvement of all types of text in Italian.
Subtitling
Localization
FIELDS OF EXPERTISE
Tourism Industry
Guides – Articles for magazines  –  Hotel Information –  Websites – Reviews –  Blogs – Brochures
Art & Culture
Guides and captions for museums' exhibitions – History essays –  Visual and applied arts
Marketing & Media
Advertising texts – Banner – Flyers -E-commerce platforms – Events – Newsletters – Promotional materials –  Correspondence – Websites
Food & Wine
From recipes to wine and tea menus, to natural nutrition, vegan and vegetarian diets and organic produce.
IT & Games
Websites – Mobile App – Localization
Subtitling
Audio commentaries – Captions – TV Series – Documentaries – Films – Games – Speeches
Editing & Proofreading
Stylistic and grammatical improvement of all types of text
SKILLS
ü  Sdl Trados 2017
ü  Memsource
ü  Wordfast
ü  Subtitle Workshop
ü  EZTitles
EMAIL ADDRESS: bonaccorsomanuela@gmail.com
LINKEDIN: https://www.linkedin.com/in/manuela-b-23008bb1/
PROZ.COM: https://www.proz.com/translator/2372750
555 total views, 1 views today