Discover GT4T -10% DISCOUNT FOR WORLD TRANSLATION JOBS COMMUNITY
GT4T Adds Machine Translation Program

GT4T is an Windows/Mac app that allows you to use on-line MT and dictionaries in any programs without having to open the browser.
GT4T grabs translation suggestions from Google Translate, Microsoft Translator, DeepL, Yandex, Linguee, Glosbe, WordReference, and Microsoft Terminology, IATE, all without having to leave your work and open a browser.
26000-character free trial
GT4T works as a super add-on to all Windows and MacOS based apps or CATs. You can select some source text anywhere and press ctrl+j (Cmd+j in Mac), and you get translation suggestions from multiple MT Engines or dictionaries in a neat little pop-up.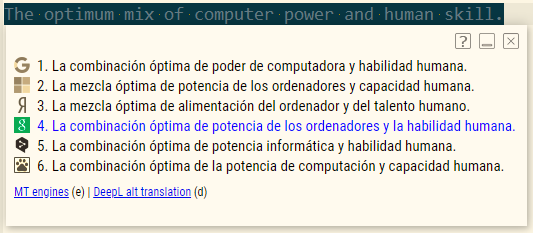 And then you can pick one from the list to insert where you are typing.
And the amazing dictionary feature: select a word anywhere and press ctrl+d (Cmd+d in Mac), you get a pop-up of results. Highlight one and press Enter to insert!
It also offers special shortcuts to translate segments in all major CAT tools.
Helpful without being complex. Check out this youtube video to see how easy it is! https://www.youtube.com/watch?v=-9XxHSkhqTI&feature=youtu.be
Use the following link to download. It comes with 26000-character free trial out-of-the-box.
-10% DISCOUNT FOR WORLD TRANSLATION JOBS COMMUNITY