FREE EBOOK 60 ways to attract and get clients as a translator
📣NEW EBOOK📣
Would you like to find out 60 ways to attract and get clients as a translator?
Click on the link to find out:
22 ways to attract and acquire your first client as a translator
38 practical ways to get out of a slump and get a new client
Since 2016, the year I started mentoring other translators, I have been asked by starting-out translators to help them find their first client and get established as professional translators; while more experienced translators come to me to help them find better paying clients and raise their rates. 
This is the reason why I did choose for my MBA Thesis to run a qualitative survey about client-acquisition strategies for language professionals. 
This eBook is the result of my 14 + years of experience as a professional certified translator, 6+ years as a business mentor to other translators & interpreters and my MBA Thesis.
I hope you enjoy it. You can send me any comments via email.
If you have any questions you can book a free call with me here: vmentoring.com/booking
About Virginia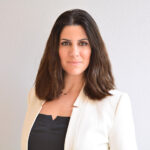 Hi! I am Virginia, a certified English and French to Greek translator with more than 14 years of experience in law, finance, and aeronautics and defense. I hold an ΜA in translation and an executive MBA. As a certified translator and coach, I teach and practice translator mentoring methods. For my MBA dissertation, I conducted a qualitative research study on client acquisition strategies for language professionals and I am here to present some interesting results. 
I am the creator of the Fully Booked Translator Formula & the Ultimate
LinkedIn Prospecting System, the first comprehensive, results-oriented 1:1 & Group Business Mentoring Programs for Language Professionals. I have helped hundreds Freelance Translators worldwide to attract international clients and rapidly build their profitable business through my Mentoring Programs. Now I run two businesses: www.vtranslations.gr & www.vmentoring.com.
You can find me on LinkedIn: linkedin.com/in/virginiakatsimpiri
WHAT LED ME TO START MENTORING TRANSLATORS?
Certified Translator with Business Background

Certified Translator since 2007

Translation Company owner since 2014

Certified Coach and MBA holder

Certified Life Coach (Expert Level) in 2016

Created the first voluntary mentoring program for translators in Greece in 2016

MBA in client acquisition strategies for language professionals in 2019

Public Speaker & Presenter

Mentoring For Translators & Starting -Out Translators Communities & "Ask Your Mentor Anything" Weekly Live Sessions.
Pictures @Vmentoring
9,182 total views, 2 views today