Elena M, English to Italian translator
Best English to Italian translator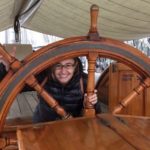 My name is Elena Montrasio , I am a published literary translator and I translate books (fiction and non fiction  -Art History, History, Marine Conservation – ), as well as children's and young adult's books, from English into Italian and from Italian into English.

I am a member of AITI (Associazione Italiana Traduttori e Interpreti) and have taught Italian as a second language for over 20 years at U.S. Academic Institutions, which  has given me a deep and detailed knowledge of both my native language as well as the target language and culture.
I also work on archival Italian documents, which I transcribe and translate into English as requested.

EXPERIENCE

I have been translating for over 15 years, and have translated several books on Marine Conservation, as well as academic articles on Art History and History. I also have extensive experience translating journal articles, newsletters, and a wide array of other formats/projects, including video subtitles.  I am currently collaborating with an Italian marine conservation organization for the protection of cetaceans, as a translator, proofreader and text editor.

I transcribe archival Italian documents, and provide an English translation when requested.

 
My FB page is: https://www.facebook.com/traduzionioceanomare/
My website is :  https://elenamontrasio.wixsite.com/traduzionioceanomare/galleria
Get in touch
elena.ockey@gmail.com
662 total views, 2 views today