Bijaya K, English-Oriya-Hindi translator
Best English-Oriya-Hindi translator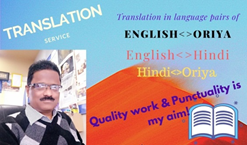 My name is Bijaya Kumar Sahu, a reliable, and highly experienced Freelancer with expertise in translation work. I can do the translation work in the English, Oriya, and Hindi languages. My skills are Translation, Proofreading/Editing/Review, DTP, and Data entry. I am certain that you will find my skills and talents to be of value. With this in mind, I invite you to consider my case for hiring me as a Freelance Translator. At present, I am doing Freelancing work for the last three years which includes English<>Oriya and English<>Hindi Translation, Proofreading/Editing/Review (in the English, Hindi and Oriya languages), Typing (Oriya, Hindi, & English) job, etc. My mother tongue is Oriya and my second language is Hindi. I am well versed in doing translation from English language to Oriya languages and vice-versa. My aim is client satisfaction and I do complete the job assigned to me within the time frame and also with 100% accuracy.
At present I am doing freelance translation work for companies like (1) Ansh Intertrade Pvt. Ltd. (2) One Hour Translation, USA (3)WeLead Translations Inc., China, (4)  Somya Translators Pvt. Ltd., Delhi, (5) Transoplanet, Assam, (6) Gengo.com, (7) SmartCat.ai (USA) (8) SourceCode Translation Services Pvt. Ltd.,(Delhi), (9) Word Publishing General Partnership, Mumbai, (10) Mozhi Solution, Chennai, (11) Translangways, India, (12) Verbolabs, India,  etc. I am also doing Proofreading / Editing / Correction in languages like Oriya, & English.
I am well versed in doing translation or Proofreading/Editing/Review in all domains, including book translation.
Email: bijaya2274@gmail.com
Skype: bijaya2274