Yanina R, English, French and Spanish translator
Best English-French-Spanish translator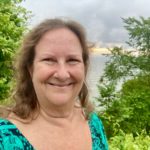 My name is Yanina Rovinski, I am a Costa Rican citizen with more than 30 years experience as a freelance translator for English, French and Spanish.
I have worked for international organizations and specialized in scientific and environmental topics. I am also a published author, environmental writer and editor.
To briefly summarize my experience, I had a very diverse upbringing, growing up in Costa Rica, attending French school there and then moving to Paris as a teenager, where I went to high-school, then moved back to Costa Rica where I graduated from University with a Chemistry degree.
For years I worked in the textile industry and then moved to California to fulfill my dream of becoming a science writer. I received a Master's degree in Journalism from UC Berkeley and returned to Costa Rica to work as a science and environmental reporter.
In time, I began to specialize in environmental issues and became engaged in the environmental movement. I joined the IUCN (international conservation organization), where I worked as journalist, translator (in English, French and Spanish), interpreter, press liaison and many other communications-related areas. I also worked for the Costa Rican Foreign Service as Counselor at the Costa Rican Embassy and assistant to the UNESCO Delegation in Paris.
A few years ago, I moved back to Costa Rica, where I have been living ever since, working as a freelance translator and teaching environmental issues to study-abroad students from different U.S. universities. The latter has been strongly affected by the pandemic and am now looking to expand my work as a translator.
Translating is one of my favorite things to do, together with reading and writing. I look forward to the opportunity of being featured in your list of translators and can guarantee high quality work, care for accuracy and a preference for good writing style.
I believe that translation is a way of sharing knowledge and promoting cooperation and understanding, and therefore a great tool for making our world a better place.

Get in touch
yrovinski@gmail.com
715 total views, 1 views today